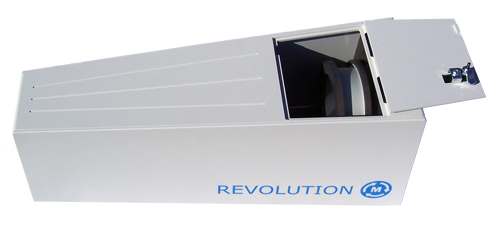 Revolution Powder Analyzer Flyer

With the REVOLUTION Powder Analyzer you can determine your powder's process behavior directly in a simulated process environment. You can perform all of these performance behavior tests: Flowability, Granulation, Mixing and Fluidization with one simple to use Powder Analyzer - The REVOLUTION.
NEW: optional charge measurement module. Electrostatic charge built up during movement and dissipation at rest has an important influence on the flow behavior of a powder. It can be changed e.g. by adding flow agents.
NEW: optional program controlled heated measurement chamber (max. 250°C)
The working principle: The REVOLUTION Powder Analyzer has a rotating drum that measures the flow properties of granular and fluidized materials.The operator fills the rotating drum with 8 - 100cc of powder. A stepper motor turns the drum. The operator can set the drum rotation rate and prep time of the analysis. A digital camera with the assistance of backlight illumination takes digital images of the powder during the rotation process. While collecting the images, the software calculates various parameters of the powder flow behavior (e.g. power of avalanches, time between avalanches, avlanche and rest angle, surface roughness, standard deviation and change over time of these values). The user can perform different types of analysis: Flowability, Fluidization, Mixing, Packing

Powder during Flowability measurement


Powder Fluidization measurement

Powder during Granulation measurement